Every slam dunk, sprint, or intense minute on the court hinges on one crucial element: proper nutrition.
As a parent of a budding basketball star or a player yourself, ensuring you have the right food can drastically influence athletic performance. What does nutrition for basketballers look like?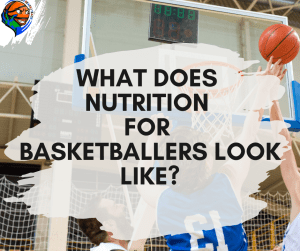 Nutrition for basketball players primarily focuses on a balanced intake of carbohydrates for energy, proteins for muscle recovery, and fats for sustained stamina at a ratio of 45-65%, 10-30%, and 25-35%, respectively, vegetables, fruits, and whole grains should make up a huge portion of your diet because they contain more minerals, vitamins, and fiber than soda, chips, fried foods, and pastries.
But more than knowing what to eat, you should understand when to eat to have a competitive edge on the court.
Nutrition recommendations for basketball
Your body requires specific fuel to perform at a high level, whether it's practice, regular season, or championship games. Getting carbohydrates, proteins, and fat in the right amounts is important for high performance.
Carbohydrates: Fueling on game day
Carbohydrate is the primary energy source for basketball players, powering both the brain and muscles. Athletes should aim for 5 grams or more of carbohydrates per kg of their body weight daily and 7 – 12 grams of carbohydrates per kg of body weight during competition or on days with heavy training sessions. That means an 80 kg basketball player should consume 400 grams of carbohydrates daily and 560 grams – 960 grams on competition and heavy training days to maintain their energy levels.
Key sources of complex carbohydrates include whole grains like cereals, rice, pasta, bread, fruits, vegetables, yogurt, and milk. Starchy foods such as potatoes and beans also fulfill the carbohydrate intake, providing sustained energy throughout the day.
Protein: Building and repairing the body
Protein isn't just about building muscle; it's about maintaining all body tissues, supporting immune health, and aiding muscle repair. Basketball players should target between 1.4 and 1.7 grams of protein per kilogram of body weight daily.
Good sources of protein include Greek yogurt, lean meats, beans, lentils, and tofu.
Fats: The underappreciated asset
Fat often gets a bad rap, but it's an essential ally for athletes. It regulates body temperature, protects organs, assists with nerve transmission, and transports vital vitamins.
Particularly valuable are omega-3 fatty acids, known for their role in inflammation control and brain health. While fat recommendations are not as specific as carbohydrates and protein, focusing on healthy fats like avocado, nuts, seeds, and fatty fish ensures your body gets the necessary support.
What should I eat before a basketball game?
Focus on nutrient-rich and energy-giving carbohydrate foods like whole grain cereal, pasta, crackers, tortillas, and bread, and limit intake of harmful carbs like white bread, soft drinks, and sweets.
It might be tempting to follow trending NBA pre-game meals like PB&J sandwiches and pasta but remember, growing teen basketballers need a different nutrition to professional basketball players.
What you eat is just as important as when you eat. For proper digestion, have a meal two or three hours before the game. Listen to your body and don't undereat or overeat. Eating two or three hours before a game leaves you with some room for a snack for half an hour or an hour before the game.
How much water should you drink during a basketball game?
The golden rule of thumb is for teen and youth players to drink 4-8 ounces of fluid (a sports drink or water) every 15 minutes. You should also take the same amount 15 minutes before the game starts to ensure you start well-hydrated.
However, the amount of water intake isn't one-size-fits-all. Instead, you should consider the following factors to guide whether you should drink more or less fluids.
Sweat equity – Sweat loss is a pivotal factor. Two players in the same game can have dramatically different sweat rates based on their body composition, metabolism, and even genetics. It's essential to recognize your sweat patterns. If your jersey is drenched or if salt crystals form on your skin, you're losing significant fluids and should adjust your intake.
Intensity and duration of play – Are you the star player constantly in the limelight or more of a strategic substitute? Depending on your role and playtime, your hydration needs may vary. If you're constantly sprinting and jumping, your fluid needs are higher.
Environmental playbook – The surroundings play a crucial role. An outdoor summer game demands more hydration than an indoor winter game. Always be mindful of environmental factors like temperature and humidity.
Note: Remember, fluid intake isn't just about quenching thirst; it's about keeping your body functioning optimally, and dehydration can affect your performance.
How many calories does an NBA player eat?
NBA players require enough calories to keep their strength during intense training and games. The average basketball player will need between 2000 and 4500 calories daily to stay healthy and fit.
But depending on their level of activity and body weight, some might need more (about 7000 calories). The amount of calories consumed also depends on the season. When it's off-season, the NBA player can consume fewer calories, but during the regular season, they cannot afford to skimp on nutrition lest their game performance dips.
What do basketball players eat after a game?
During training or a game, muscles are broken down. As such, players should eat a well-balanced diet rich in protein to repair their muscles which aid in post-game recovery. Foods rich in protein include meats, fish, legumes, and poultry.
Hydration is also important. Although water is good, sports drinks are important, especially if the game is intense and you sweat a lot. The drink will restore lost fluids and replace electrolytes to guarantee optimal body function.
Get professional help
Navigating the complex world of nutrition and sports performance might seem daunting for young athletes and their parents. However, understanding and implementing proper nutritional guidelines can make a difference, both on and off the court.
For those parents and youths eager to elevate their game, the You Reach I Teach Basketball Academy is an invaluable resource. With a proven track record of shaping young talents and even having some of their prodigies drafted into the NBA, their approach is more than just about basketball skills. It's about holistic growth, ensuring that every athlete performs at their peak and understands the integral role nutrition plays in their journey.
So, why wait? Dive into the world of basketball with the confidence that, with the right guidance from the seasoned coaches at You Reach I Teach Basketball Academy, your child isn't just playing a game. They're setting the groundwork for a future that shines as brightly as the NBA stars they admire.
Contact us for a free training session today.