We've all seen and gasped in awe of Michael Jordan's 48-inch vertical jump. It was nothing short of epic. Aside from being a show-stopper, a good vertical jump can help you get more rebounds, steals, blocks, and dunk over players.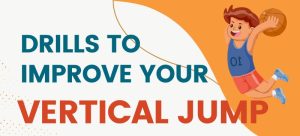 So, you're working on improving your court skills and wondering if a high vertical leap is purely genetics or if you can improve it. You'll be glad to learn that you can improve it with the right trainer, basketball training program, and drills.
But before we jump in, let's understand the basics.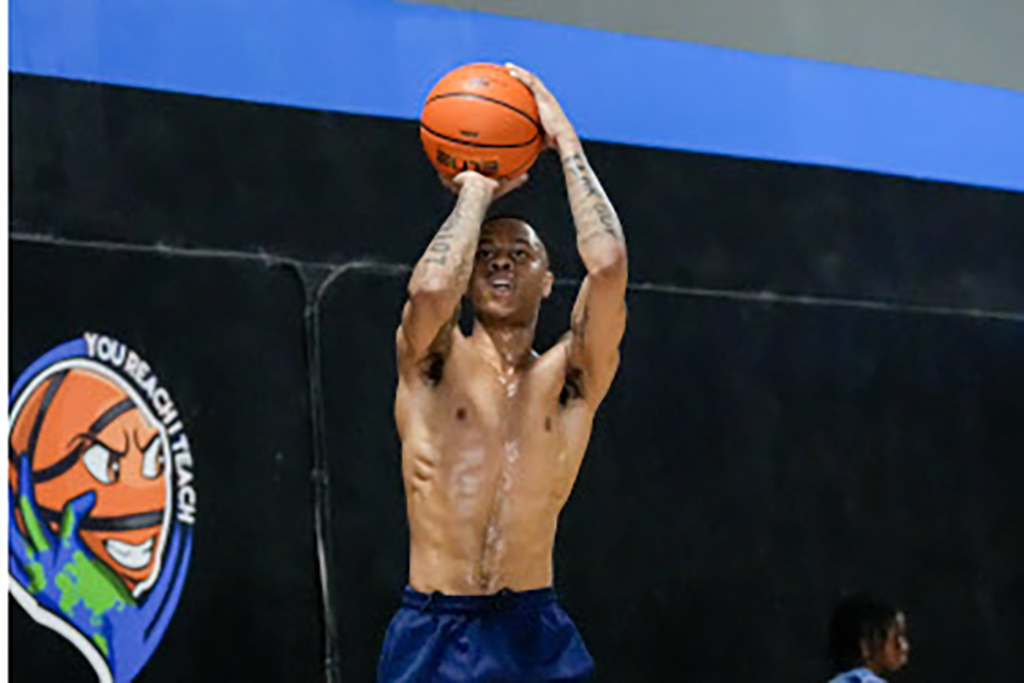 What is a vertical jump in basketball?
The vertical jump in basketball refers to the maximum height a player can achieve off the ground. A player's vertical jump is a testament to their athleticism and explosive leg power; enhancing it can positively impact their game.
Players with a higher leap often have a broader range of motion on the court. It's not just about the highlight-reel dunks; a good vertical can aid in various in-game situations. For instance, guards can shoot over taller defenders, and centers can effectively contest shots. Historically, many basketball greats, from Bill Russell to Michael Jordan, have utilized their vertical jump as a key component of their basketball arsenal.
The science behind a vertical jump
The vertical jump is a blend of physics and biomechanics with its secret hidden in optimizing your power-to-body weight ratio.
Power is the product of force and velocity. In this context, force represents your maximum strength, while velocity is the maximum speed you can achieve. By enhancing both strength (relative to body weight) and speed, you can scientifically boost your vertical jump.
Two athletes might have the same squat strength, but if one can exert more force during the quick motion of a vertical jump, they will leap higher. Similarly, two athletes with identical strength and power in their vertical jump will show different results if their body weights differ significantly. The athlete with the better power-to-weight ratio will jump higher.
Muscles used during a vertical jump
While jumping might seem straightforward, the biomechanics behind it are intricate. It involves the quads, calves, glutes, and hamstrings to push your body upwards.
The different muscles play a different role in the process:
Glutes
These muscles are responsible for extending your hips. When you jump, the glutes powerfully extend the hip, propelling you upwards.
Quadriceps
These muscles are responsible for extending the knee. As you prepare to jump, you bend your knees; when you jump, the quadriceps straighten them, adding to the upward momentum.
Hamstrings
These muscles assist in hip extension and are crucial for knee flexion. They also help absorb the impact when you land, ensuring a smooth and safe landing.
Calves
The calf muscles extend as they push the ball of the foot down, giving that final push-off the ground, maximizing your vertical jump height.
Core and abdominals
These muscles, including the transverse abdominis, external and internal obliques, rectus abdominis, erector spinae, and multifidi muscles, provide stability. A strong core ensures that the force generated by the lower body is effectively transferred upwards without any energy loss.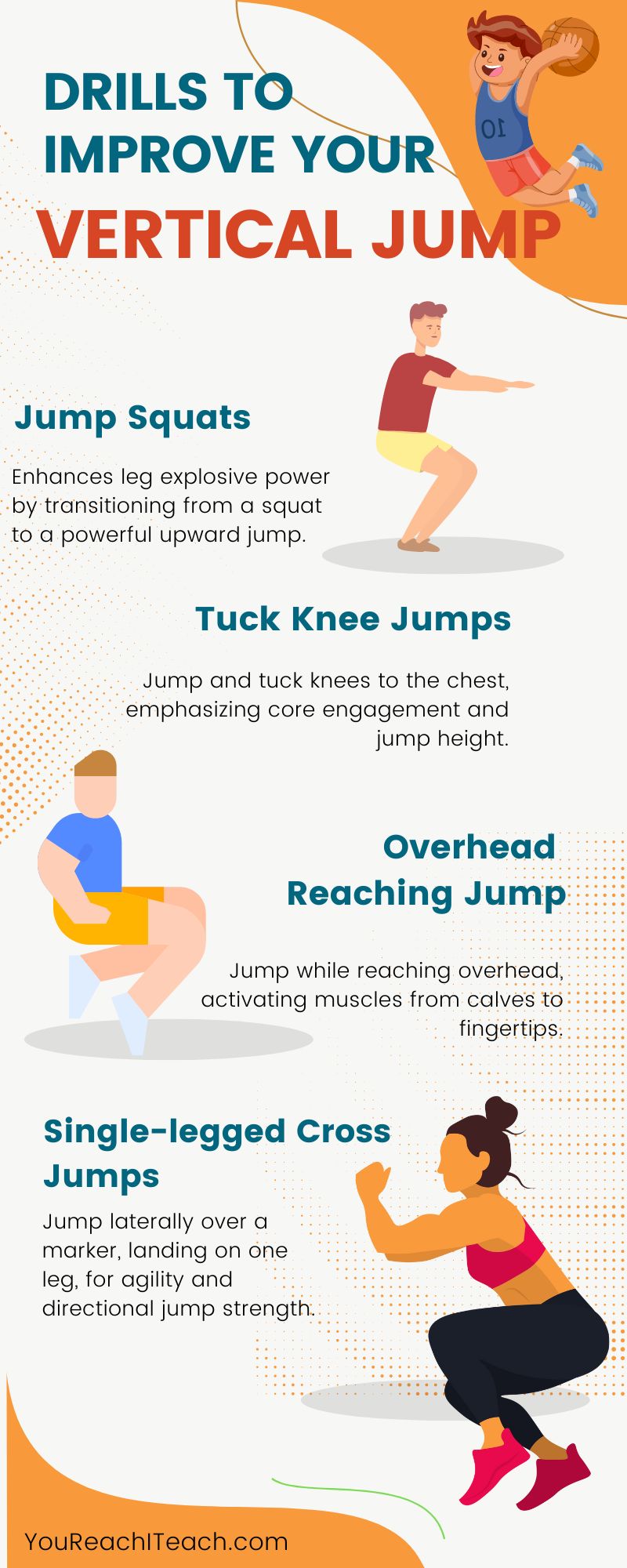 How to do a good vertical jump?
Proper technique when jumping is as important as understanding the science behind the jump. Below are the steps to take for a proper jumping technique:
Step 1: Proper stance
Begin with your legs shoulder-width apart. This alignment helps you transfer maximum power to the ground. Next, push your knees outward, being careful not to move your feet. This action prepares your hips for a powerful jump.
Step 2: Gather momentum
Dip your knees and hips fast into a half-squat. As you dip, throw your arms behind you. This motion not only helps in gathering momentum but also aids in maintaining balance.
Step 3: The jump
Propel yourself upwards with all the power you can gather. As you jump, fling your arm forward and upwards to aid in elevation. Instead of reaching up with both arms, extend only one arm upwards. This technique allows you to reach higher, optimizing your jump height.
As you descend, keep your knees slightly bent for a soft landing. This helps in absorbing the impact and protects your joints. When you land, drive your knees outward upon to prevent them from caving inward.
Measuring your vertical jump
The NBA uses jump testers to measure vertical jumps. A vertical tester is a pole with several thin sticks at the top. If you can access this equipment, you'll get the most accurate measurement. But if not, your next best option is jumping next to a high wall and marking where you touch with a marker pen or chalk.
Start by standing on an even floor and stretch out one arm over your head. Mark this point on the wall and subtract it when jumping from your reach. Say you reached 120 inches and can reach 90 inches when standing; your vertical jump is 30 inches.
Note: You cannot power step or run during a vertical step measurement. Your feet have to be planted on the ground.
Drills to improve your vertical jump in basketball
Improving your vertical jump requires strength, speed, and technique. Here are some plyometric exercises that can help elevate your leaping ability:
Jump squats
This is an enhanced version of the traditional squat that focuses on building explosive power in the legs. Begin in a standard squat position with feet shoulder-width apart. As you rise, instead of standing, explode upwards into a jump. This movement strengthens the leg muscles and trains them for quick, powerful bursts.
Tuck knee jumps
This drill emphasizes coordination and power. From a standing position, jump upwards and tuck your knees toward your chest mid-air. It's a great way to engage the core while also working on your jump height.
Overhead reaching jump
Standing with feet hip-width apart, jump upwards while reaching overhead, trying to stretch and extend your body fully. This full-body stretch activates everything from your calves to your fingertips, ensuring a coordinated upward movement.
Single-legged cross jumps
Stand beside a line or a low hurdle for lateral power and balance. Jump laterally over your marker, landing on a single leg, then immediately jump back to the starting position. This side-to-side movement enhances agility and strengthens the muscles used in directional jumps.
Wall touches / cone taps
This is a simple yet effective drill. Stand near a wall or a tall object and jump, trying to touch a point as high as possible. Repeatedly reaching for a higher mark can help you gauge and incrementally improve your vertical reach.
Lateral plyometric box jumps
Using a plyometric box or a stable raised platform, stand to the side and jump laterally onto the box. This exercise is not just about height but also about control, stability, and side-to-side explosiveness.
Uphill sprints
One of the best ways to build leg strength and cardiovascular endurance is uphill sprints. Find a hill or an inclined surface and sprint up as fast as possible, emphasizing driving your knees up with each stride. The incline's resistance ensures your leg muscles work harder, translating to a more powerful vertical jump over time.
Does jumping off one leg make your vertical jump higher?
Generally, the heights reached with two-foot or one-foot jumps are similar despite the different strategies. One-foot jumps have a distinct advantage in terms of takeoff height. This is due to the elevation provided by the free-swinging leg.
When an athlete jumps off one foot, the momentum and swing of the non-jumping leg can add to the height of the jump. This swinging motion generates additional upward force, which can contribute to a higher leap.
On the other hand, two-foot jumps often rely more on raw power and the explosive strength of both legs pushing off simultaneously. While this can generate a lot of force, it doesn't benefit from the added momentum of a swinging leg.
Train with You Reach I Teach Basketball Academy
If you've made it this far, congratulations. You are a step closer to getting more powerful, explosive movements and, overall, being a better basketball player. But remember, throughout the journey you will need hard work, dedication, and patience. It helps when you have a trained eye guiding and encouraging you through the process.
At You Reach I Teach Basketball Academy, we have trainers who've worked as professional basketball players and continue to produce NBA-level talent. We'll be happy to guide your hand and push you to your best potential.
Contact us today to book your first training session and get a feel for what we offer.