Basketball requires skill, speed, and stamina to keep you going, quarter after quarter. The greats like Michael Jordon didn't achieve their status overnight. It resulted from strategic training, focusing on boosting speed and stamina. Specific drills, dietary modifications, and strength training can help you outrun your opponents and stay energetic throughout the game.
If you're ready to push your limits, hustle harder on the court and outpace your opponent, You Reach I Teach Basketball Academy has the perfect coaches and training for you!
What is stamina in basketball?
Stamina is the ability to maintain high energy levels for a prolonged period. Good stamina allows professional basketball players to play four quarters of a rigorous game without a drop in their performance.
Often stamina is confused with endurance, but they are different. If stamina is the amount of time your muscles perform at full capacity, endurance is the time the muscle group can perform a specific action.
Unlike endurance, stamina isn't an element of physical fitness but a result of getting fitter. The five components of physical fitness inferred are flexibility, body composition, cardiovascular endurance, muscle strength, and muscle endurance.
What does speed mean in basketball?
Speed refers to how fast a player can cross a court in a straight line. Speed comes in handy when beating opponents and during fast breaks. As such, speed drills include exercises that require trainees to run on a straight path.
But as a coach, speed in basketball isn't just about the raw sprinting ability. It encompasses agility, quickness, and the ability to change direction rapidly—all while maintaining control of the ball and awareness of the opponents and teammates around you. In fact, the game often demands rapid acceleration, deceleration, lateral movements, pivoting, and jumps, requiring players to be swift in more ways than simply running in a straight line.
How can I increase my stamina and speed in basketball?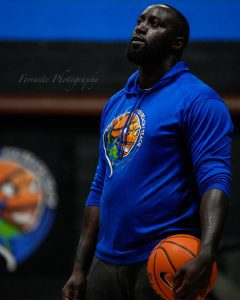 To elevate your performance on the basketball court, you need to increase your speed and stamina. Here, we delve into several strategies that can help you do so effectively:, along with several other strategies:
Adopt a balanced, sport-specific diet
Your pregame meal is part of a larger nutritional strategy that should fuel your performance on the court. To build stamina and speed, your body needs the right nutrients. Focus on a balanced diet rich in lean proteins, complex carbohydrates, and healthy fats.
Prioritize slow-releasing energy sources like whole grains, legumes, and fruits for sustained energy during games and training sessions. And avoid high-sugar energy drinks and foods high in sodium or fat before a game.
Hydrate regularly and intentionally
While it's crucial to hydrate before a game or practice session, it's equally important to maintain hydration levels throughout. Dehydration can significantly hamper your stamina and speed. So, make it a habit to drink water periodically, during games and workouts.
Incorporate strength and resistance training
Building muscle endurance is a critical aspect of improving stamina. Incorporate strength training exercises into your routine, focusing on core muscles, legs, and upper body. However, balancing this with speed training is important—adding too much bulk can hamper speed. Exercises like squats, lunges, and planks can build the lean, enduring muscle that benefits basketball players. Also, strength training aids in reducing your risk of injury.
Prioritize cardiovascular fitness level
Cardiovascular workouts are key to enhancing both speed and stamina. High-Intensity Interval Training (HIIT), for instance, can be particularly beneficial. This training alternates between intense bursts of activity and fixed periods of less-intense activity or rest periods. It mimics the stop-and-start nature of basketball, making it an ideal training tool.
Emphasize speed and agility drills
Dedicate part of your training time to speed and agility drills, such as shuttle runs, ladder drills, and sprinting exercises. These can enhance your explosive movements and improve your speed.
What drills improve stamina in basketball?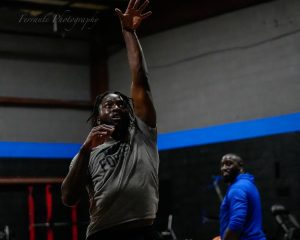 Boosting stamina for basketball requires a focused individual basketball training approach with specific drills designed to push your endurance levels:
This drill involves repeatedly running from one sideline to the other for a set period (usually one minute). Keep track of the times you half cross the court, and aim to increase this number over a period of time.
Half and full-court sprints:
Start at one end of the court, sprint to the halfway line, then return. Rest for a brief period, then perform a full-court sprint. This back-and-forth movement simulates the quick transitions between offense and defense during a game, helping to build game-specific stamina.
Start at one baseline, sprint to the nearest free-throw line and back, then to half-court and back. Follow this with a far free-throw line and back, and finally to the opposite baseline and back. 'Suicides' are renowned for their effectiveness in boosting cardiovascular endurance.
Start at one end of the court, dribble to the opposite end and perform a layup, retrieve the ball, and dribble back to perform a layup on the original side. This continuous action builds both stamina and basketball skills.
Using an agility ladder, perform drills such as hopscotch, where you hop on one foot in one square, then land on two feet in the next square, and repeat the pattern. Another drill, chimney jumps, involves rapidly jumping with both feet together in and out of the ladder squares. These drills enhance foot speed and endurance.
How do you train for speed in basketball?
Here are several exercises designed to enhance your speed on a basketball court:
This intense drill involves sprinting from one baseline to the opposite baseline and back to the original baseline, repeating this five times for ten court lengths. It improves your straight-line speed and mimics the constant back-and-forth movement in a basketball game.
This drill focuses on acceleration and maximal speed. Start at one end of the court and sprint a distance of approximately 30 yards (the length of a basketball court is 94 feet, roughly 31.3 yards), focusing on starting quickly and maintaining top speed. The 30-yard sprint hones your ability to rapidly transition from defense to offense (or vice versa).
Place cones in a zig-zag pattern across the court. Starting at one end, sprint to each cone, changing direction as you reach each one. This drill enhances your speed in changing directions, a vital skill in basketball.
These drills improve your side-to-side speed, which is essential for defensive maneuvers. A simple drill involves starting on one side of the key, shuffling across to the other as quickly as possible, and back again. Repeat this multiple times.
Improving speed also involves enhancing your reaction time. Drills like the 'Mirror Drill,' where you attempt to mirror a partner's movements on the court as closely and quickly as possible, can be highly effective.
Why basketballer players should avoid steady-state cardio
Steady-state cardio isn't ideal for basketball players since it doesn't require a lot of energy and can tire you out first. Workouts that require energy, like sprints and circuit training, are better for players looking to improve their explosiveness and stamina.
While steady-state cardio isn't inherently bad and can form a part of a basketball player's training regime, it shouldn't be the mainstay of their conditioning. More dynamic, high-intensity exercises that mirror the physical demands of a basketball game are likely to yield more significant improvements in game-related stamina, speed, and explosiveness.
Work with a pro
Becoming an exceptional basketball player requires the right group basketball training and professional guidance. That's precisely what You Reach I Teach Basketball Academy offers. Our experienced coaches are committed to unlocking your potential and taking your performance to new heights. We cater to all aspects of your development, focusing on physical conditioning, tactical understanding, and mental resilience.
Don't delay in taking your game to the next level. Join You Reach I Teach Basketball Academy today and begin your journey to basketball excellence.
Contact us now to learn more about our programs. Remember, success in basketball is all about the willingness to work hard and finish strong. Let us guide you on this exciting journey.