Watching players with superior ball handling and dribbling skills is entertaining. Hesitation moves, ankle-breaking crossovers, and signature combos are easily the highlight of any game. But how do you get your skills to that level?
First, you must know the difference between dribbling and ball handling and have the right mindset. Here's a guide to take you through everything you need to know to become a better ball handler.
Understanding the basics of ball handling
Although some coaches use 'ball handling' and 'dribbling' interchangeably, they are different. Dribbling can be practiced alone, while ball handling involves fundamental basketball skills, including dribbling, passing, and making split-second decisions on the court. That is why our basketball training camps focus on improving every aspect of your game.
At its core, ball handling involves three key principles:
Control: It starts with how you hold the basketball – using your fingers, not your palm. This gives you a softer touch and superior command. The ideal dribble is one where the ball feels like an extension of your hand, responding to your will.
Maneuverability: Evading opponents is a skill closely linked to your ball-handling ability. It's about changing pace and direction seamlessly, deceiving defensive players with your hand-eye coordination.
Versatility: Developing basketball skills with your non-dominant hand is essential, as it adds an element of unpredictability to your game, making you a more formidable player.
Mindset: More than just a game
Basketball is a mental game, as well as it is physical. You must adopt the right mindset to improve your ball-handling skills and performance on the court.
Learn to embrace failure. Building superior ball-handling skills is a journey riddled with mistakes. Every slip up and mistake is a step in the right direction. Learn from your mistakes instead of seeing them as setbacks.
Basketball practice will demand a lot of time and effort. You'll spend countless hours repeating the same drill until it becomes muscle memory, so be patient. In the process, your arms will tire. When this happens, block out the pain and push yourself to complete one more drill.
Confidence is also important since it allows you to take risks, push past your comfort zone, and thrive under pressure. It also allows you to adapt and adjust your play to opponent strategies to have a winning chance.
Drills: The cornerstone of skill development
Drills allow you to isolate specific aspects of your game, refine them, and then integrate them back into your overall performance. Incorporate the following drills into your practice sessions:
Basketball dribbling drills
Begin with simple drills like stationary dribbling, focusing on control and hand-eye coordination. As you progress, move on to more complex dribbling skills like crossover dribbles, which help improve your agility and ability to change direction.
Passing drills
Engage in partner and wall-passing drills to enhance your accuracy and control. These drills simulate game-like situations and help you understand timing and spacing better. Remember, well-placed passes make a significant difference in a game.
Start with stationary drills like chest and bounce passes, focusing on accuracy and power. As your skills improve, move on to more challenging drills such as the give-and-go or the no-look pass.
Fitness
Since basketball is a physical sport, you must be strong and fit to compete at higher levels.
Strength – Strength directly impacts your ability to handle the ball. You can maintain better ball control and make more accurate passes by improving your upper body and core strength. Strength training exercises like push-ups, pull-ups, and planks can are perfect for this.
Speed – Running sprints and doing ladder drills can help improve your footwork, increasing your speed on the court. The faster you are, the better you can react to different game situations and quickly maneuver your way around defenders.
Agility – This is the ability to change direction quickly without losing balance. Agility is critical in basketball; players must move fluidly on the court. Some of the most effective agility exercises include lateral shuffles, cone drills, and jumping exercises.
Endurance – This is maintaining a high level of physical activity without getting tired quickly. Improve your endurance through cardio exercises like running, cycling, and swimming. You can stay on the court for longer at peak performance by improving your endurance.
Prioritize flexibility
Stretching exercises and yoga poses help increase your range of motion, enabling you to execute a broader range of movements on the court. Enhanced flexibility translates to improved ball control and agility.
Learning from the pros
Observing and learning from accomplished basketball players can provide valuable insights into enhancing your ball-handling skills. Study their techniques, moves, and strategies. Note how they position their hands, feet, and body while maneuvering the ball under pressure.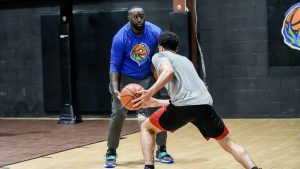 But watching the pros is not enough; you must implement what you learned. Incorporate their techniques into your practice sessions. Experiment with different moves and strategies until you find what works best.
Frequently Asked Questions (FAQs)
What are the essential basketball ball-handling skills?
The primary skills are dribbling, passing, and shooting. Mastering these skills is crucial to becoming a successful basketball player.
How often should I practice to improve my basketball ball-handling skills?
Consistency is key. Aim for daily practice, even if it's for a short duration. Regular and focused practice will yield significant improvements over time.
What are some common mistakes in basketball ball-handling?
Common mistakes include looking at the ball while dribbling, relying too heavily on one hand, and neglecting to use your body and non-dribbling arm to protect the ball.
How long does it take to develop good basketball ball-handling skills?
The time required varies from person to person. It can take anywhere from a few months to a few years, depending on the consistency and efficiency of your training.
Are there any tools that can aid in developing my basketball ball-handling skills?
Tools like dribbling goggles, cone sets, and gloves can help develop your ball-handling skills. These tools can provide added challenges and help improve specific aspects of your ball handling.
Does height play a crucial role in basketball ball handling?
While height can offer certain advantages in basketball, good ball-handling skills can be developed regardless of height. Technique, practice, and dedication are the key factors in improving your ball-handling abilities.
Practice dribbling drills at You Reach I Teach today!
Developing your ball-handling skills requires passion, dedication, and patience. But what good are these qualities if your drills and practices are wrong? You Reach I Teach Basketball Academy can help with this.
Our coaches work with experts and beginner basketball players. To get you the best results, we determine your limits and push you to get the most from every training session. Our training model has proven successful and works with teens and pre-teens too.
Contact us for a free training session and get a taste of what you're missing.